Posted on 18th, Dec 18
M4 Car Removal is a Car Removal firm based in St Marys in Sydney's Western Suburbs. We pay up to $7,999 cash for cars, vans, trucks, 4WDs and other vehicles. If a quick, hassle-free car sale is what you're after, we are the Cash for Cars company for you.
Got an old car you don't need anymore?
We'd be happy to take it off your hands. M4 Car Removals Sydney is a Cash for Car Removal Dealer. We buy old cars people no longer have a use for, strip them for parts which we sell second hand before dismantling the body, melting and selling it to metal recycling plants.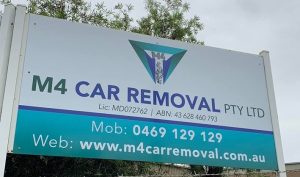 We take all kinds of cars – old and new
Even if your car is not in working condition, you can get it sold to us easily, as we will come to you to pick up the car and tow it away for free. The price we give you for your car depends on the condition we find it in. If your car is relatively new, you can expect a higher cash payout for it. If it's old and in a condition that is not so good, the price will be lesser, naturally and may only involve a few hundred dollars. Apart from Instant Cash for Cars, we also offer Free Car Removals Sydney wide.
We love speed – just the way you do
We pick up cars hours after we quote on them. If you have a car you wish to get rid of in a hurry, we're the company for you.
We make the process of buying and selling an old car as easy as possible for you. If you have an old car you'd like to sell (it could be old, abandoned, with or without rego) we are interested in buying it from you.
A simple process that's conducted over the phone
The cash for car business is a very simple one.
A customer calls and tells us they have a car they'd like to get rid of.
We get a few details from them over the phone itself (brand name of the car, year of manufacture, registered/not registered, etc).
We then give them a quote which they accept or reject.
If they accept the price, we send a man with a pickup truck to them with the transfer of vehicle paperwork.
We do a final inspection of the car – make sure the engine is still in the bonnet – and if all is ok, we purchase the car and tow it away.
The whole process is complete in a day
Got a car you don't need anymore? Give us a call at M4 Car Removal. We'll be happy to take it off your hands. We can be reached at 0469 129 129 or Get a Quote