Posted on 26th, Sep 19
The most stress-free way to sell your car for cash in Sydney is to sell it to a Used Car Dealer.
Used Car Dealers has mushroomed across Sydney for a reason. They pay good prices for old cars and what's even better – instantly.
You can sell any type of car to a Used Cars dealer
It can be new, semi-new, old or even completely broken down. It doesn't matter.
Used Cars Dealers buy all brands and types of cars. Even wrecked cars.
How come they can afford to?
Well, Used Car Dealers double up as wreckers too. They buy old cars, wreck them for parts which they then sell for a small profit online o to garages across Sydney.
They make a small profit which they share with you – and that's the best part about selling your car to them.
M4 Car Removal Guarantees Its Rates
An established Cash for Car Removal Sydney Company, M4 Car Removal guarantees to pay the best rates possible for your old car in Sydney.
We do not cheat or lie and are honest in all our transactions with our customers.
Keeping an old car or an accident damaged car in a garage is never a good idea. It brings back memories you may not want to hold onto.
So, if you have an old car in your garage, do consider selling it to us. We promise to give you a price you won't find elsewhere.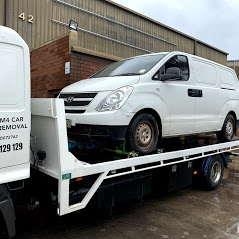 It isn't easy selling a used car in Sydney
Advertising it online is time-consuming and costly. Taking it to a second-hand car dealer won't work because second-hand car dealers want you to trade in your old car for a new one. They don't buy old cars – and certainly not ones that are wrecked.
This is why your best bet is to sell your car to a Scrap Metal Dealership like ours at M4 car removals.
With over 5000 satisfied customers, and over a decade's experience in the Cash for Car Industry, we take what is old and transform it into something that is good and new. We are serving all over the Sydney Region includes – Parramatta, Penrith, Wollongong, Epping, Ashfield, Bankstown Etc
What happens to your car when you sell it to us?
We take it apart of our wrecking yard. Those parts we can salvage, we do. We recycle and resell them extending their life.
Those parts we can't salvage, we make sure we dispose of in ways that are eco-friendly. We clean and degrease them with soaps and shampoos with non-harmful chemicals in them. Only once we are sure they will pose no threat to the environment, do we release them into it.
Got an old car to sell?
We'd love to buy it off you. To obtain a FREE Quote, please call us now on 0469 129 129